Diary for December 2020 / January 2021
---
Although the Church building is closed temporarily, the Church continues to worship using Zoom video conferencing. On Sundays the service commences at 10:45 am ("doors open" at 10:15 am); on Thursdays the service commences at 7:30 pm ("doors open" at 7:0015 pm). Also the
"drop-in"

for coffee, cake, and conversation on

Thursdays

11 am – 12 noon.
You are most welcome to join us; please see the Diary for full list of meetings.  For the
Zoom link

, please click here.

---
Full details of the link to Zoom meetings click here
---
While our building here sadly remains closed for the moment be assured we will open as soon as we can ensure your safety. Meanwhile we are still actively 'THE CHURCH' God's people together.
We worship together on ZOOM every Sunday at 10:45am and Thursday at 7.30pm. We also have a 'Drop-in' on Thursday mornings from 11am – 12 noon. All are welcome – our link is constant.  See below and on our website and facebook page. 
 We continue to work with our community through InterACT, meeting practical needs around food or money.
 If you would like us to pray for you, or  would appreciate a conversation, please don't hesitate but either text, call me on 07752904317, or email me on
Or of course ZOOM IN!
(Those with a landline phone can join with audio only)
If you would like to visit another Church, here are some links: HOLY TRINITY, Meanwood
Angela (Minister) 26 Sept 2020
---
POSTERS
Please check when these activities restart or are replaced
---
---

contact:

Messy Church  or 07491902474 for details
---
 

 

For ACTIVITIES AND EVENTS:

 click here
and then sign up for the newsletter
---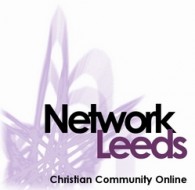 Network Leeds provides internal communication within the Christian Community. Click here for news.
---