Easter celebrations in pre-pandemic times. Most of our activities are now on Zoom.
90th Anniversary of Stainbeck Church
Sunday

16th May 2021, 10:45 am, on Zoom
Speaker: Revd Jamie Kissack, Moderator of Yorkshire Synod of the URC.
Stainbeck Church Stainbeck Church is a family of people of all ages who meet to worship God and to share their faith in Jesus Christ. We aim to worship and serve God by proclaiming the Gospel and helping to meet the needs of those around. We believe that God loves all people and wants them to have a close relationship with Him. We believe that this is possible because of the life, death and resurrection of Jesus Christ.
Here at Stainbeck, the church was established as a mission church in 1931. It is the only church within a mile radius and is surrounded by mixed housing, including pockets of high deprivation.
The majority of members and adherents are active in the life of the community, and live within one mile of the church.
InterACT is a partnership of local churches, established with Stainbeck as the lead partner. This partnership has helped the church to develop a community-based ministry and mission relevant to the needs of the area. A Messy Church initiative, again undertaken ecumenically, is enabling us to grow and consolidate our work with families and children. We also support the Thrive, the Chapel Allerton Youth Project, another ecumenical venture with young people.
An important place where our objectives, including those related to the five marks of mission, come together, is at the weekly Community Café .
The worship is varied, informal and inclusive respecting the diversity of theological understandings within the congregation.
Stainbeck continues to worship and serve God by proclaiming the Gospel and helping to meet the needs of those around. It is a congregation of the United Reformed Church in the Yorkshire Synod, and is an active member of Churches Together in Chapel Allerton and Meanwood.
Who is the United Reformed Church? We are a family of Christians, worshipping in the name of Jesus in about 1500 local churches from Orkney to Cornwall.
'Reformed' means that we delight in the Bible, we do not fear change, and we try to run our churches in ways that take everyone's insight and contribution seriously.
'United' is an important part of our story. We started when English Presbyterians merged with English and Welsh Congregationalists in 1972. Churches of Christ joined in 1981 and Scottish Congregationalists in 2000. We still work as closely as we can with Christians of all traditions and styles.
And we are one 'Church'. We aim to grow through supporting one another and taking decisions together.
All our tasks and posts are open to women as fully as to men. We are an intercultural church, where people with varied ethnic roots enrich each other's Christian living. Our people hold a range of opinions about theology and church life. In the words of the denominations Statement of Nature, Faith and Order (1990) together we are firmly committed to 'God, Father, Son and Holy Spirit. The living God, the only God, ever to be praised.' Find out more, by exploring our websites, or (even better) by coming to meet us and worshipping with us.
Stainbeck Church offers infant and believer's baptism, and is licensed to conduct weddings. The Minister is also available for pastoral care and funerals.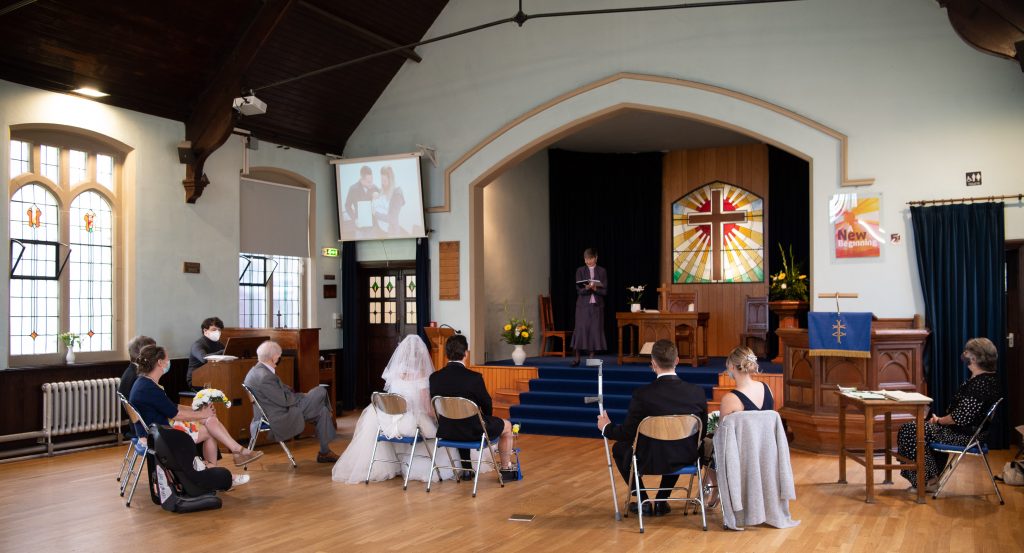 Wedding under Covid-19 restrictions and with a broken leg! (Howard Barnett Photography).
---
Links to local churches, projects and organizations, click here
______________________________________________________________________
Leeds Mission and Care Group  of URC in the Leeds Partnership
Stainbeck Church is part of the  Leeds Mission and Care Group of URC churchesin the Leeds Partnership which meets periodically. Information on these meetings is  available in MICA-NEWS.