In 1925 the Leeds Congregational Council decided that a natural and urgent extension of missions must be set up in the Meanwood area of north Leeds. A site was found and a budget for the building of a new church was fixed at about £9,000. The first recorded meeting of Stainbeck Christians took place on September 8th 1930 at a home near to the proposed site and the opening of the church took place on Saturday May 9th 1931.
The church is built of redbrick in simple Non-conformist style. In the early 1980s major refurbishment of the sanctuary took place with the removal of the pipe organ and choir stalls and the placing of the Communion furniture in the apse. A stained-glass window, made and gifted by a church member, was placed in the apse and a central aisle was put in place. In 2019 further re-ordering was undertaken in order to make management of the building more sustainable.
Members and friends of the church are mainly local people, covering a wide age-range with a broad spectrum of tradition and theological understanding.
The church stands on the boundary of two Anglican parishes and for many years has been involved in working ecumenically within the surrounding community. A Church and Community project – InterACT, now a Charitable Incorporated Organisation (CIO) involving five local churches, is based at Stainbeck and has effectively enabled its wider community outreach and mission.  Stainbeck is also a member of THRIVE Leeds (another CIO involving four churches) and this grouping has greatly enhanced the work with young people through Messy Church and youth groups.  The Church aims to be Christ in the Community, expressing the love of God in practical concern for others, without prejudice and uninhibited by barriers of race, gender, class, or poverty.. It is a congregation of the United Reformed Church in the Yorkshire Synod, and is an active member of Churches Together in Chapel Allerton and Meanwood.
The church is accessible to all and may be reached by public transport and there is parking at the church.
Sunday worship is at 10.45am currently hybrid (in church and on Zoom).
The Church has a Facebook page, is on Twitter and Instagram, and has a YouTube Channel.
Christmas at Stainbeck, pre-pandemic
Easter Celebrations, pre-pandemc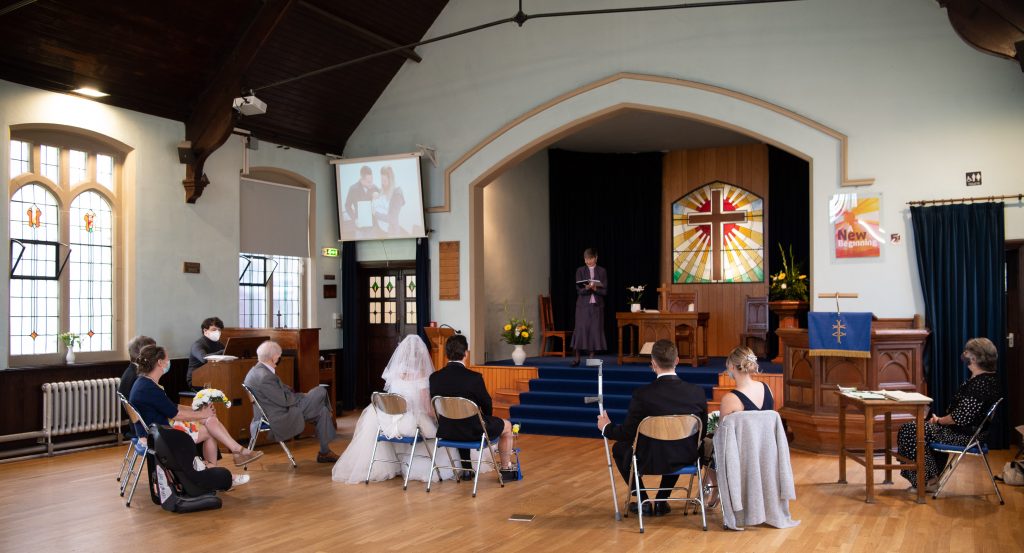 Wedding under Covid-19 restrictions and with a broken leg! (Howard Barnett Photography)
---
Who is the United Reformed Church? We are a family of Christians, worshipping in the name of Jesus in about 1500 local churches from Orkney to Cornwall.
'Reformed' means that we delight in the Bible, we do not fear change, and we try to run our churches in ways that take everyone's insight and contribution seriously.
'United' is an important part of our story. We started when English Presbyterians merged with English and Welsh Congregationalists in 1972. Churches of Christ joined in 1981 and Scottish Congregationalists in 2000. We still work as closely as we can with Christians of all traditions and styles.
And we are one 'Church'. We aim to grow through supporting one another and taking decisions together.
All our tasks and posts are open to women as fully as to men. We are an intercultural church, where people with varied ethnic roots enrich each other's Christian living. Our people hold a range of opinions about theology and church life. In the words of the denominations Statement of Nature, Faith and Order (1990) together we are firmly committed to 'God, Father, Son and Holy Spirit. The living God, the only God, ever to be praised.' Find out more, by exploring our websites, or (even better) by coming to meet us and worshipping with us.
Stainbeck Church offers infant and believer's baptism, and is licensed to conduct weddings. The Minister is also available for pastoral care and funerals.
---
Links to local churches, projects and organizations, click here
______________________________________________________________________
Leeds Mission and Care Group  of URC in the Leeds Partnership
Stainbeck Church is part of the  Leeds Mission and Care Group of URC churchesin the Leeds Partnership which meets periodically. Information on these meetings is  available in MICA-NEWS.